Center for Negotiation Analysis
International Negotiation: A Journal of Theory and Practice
International Negotiation: A Journal of Theory and Practice examines negotiation from many perspectives, to explore its theoretical foundations and promote its practical application. The journal addresses the processes of negotiation relating to political, security, environmental, ethnic, economic, business, legal, scientific and cultural issues and conflicts among nations, international and regional organizations, multinational corporations and other non-state parties.
The journal is published three times per year by the Brill Nijhoff Publishers division of Brill Academic Publishers (the Netherlands). International Negotiation is a peer-reviewed journal. The journal has been published continuously since 1996.
** Submit articles to International Negotiation online (click here).
Impact Factor information can be found at: http://www.scimagojr.com/journalsearch.php?q=5700163096&tip=sid
CALL FOR PAPERS - SPECIAL ISSUE ON "INNOVATIONS IN NEGOTIATION PEDAGOGY" (click here) - July 25, 2023 deadline
CALL FOR PAPERS - SPECIAL ISSUE ON "A VICTOR'S PEACE FOR UKRAINE? POSSIBILITIES FOR MEDIATION, NEGOTIATION AND PEACEBUILDING" (click here) - August 31, 2023 deadline
Editor-in-Chief: Bertram I. Spector, Center for Negotiation Analysis
Associate Editors:
Susan Allen, George Mason University
Lynn Wagner, International Institute for Sustainable Development
Editorial Board
Daniel Druckman, George Mason University, Fairfax, VA, USA
P. Terrence Hopmann, Johns Hopkins University, Washington, DC, USA

Valerie Rosoux, University of Louvain, Belgium
Sinisa Vukovic, Johns Hopkins University, Washington, DC, USA
Anthony Wanis-St. John, American University, Washington, DC, USA

I. William Zartman, Johns Hopkins University, Washington, DC, USA
International Advisory Board
Larry Crump, Griffith University, Brisbane, Australia
Esra Çuhadar-Gürkaynak, Bilkent University, Ankara, Turkey
Guy Olivier Faure, Université de la Sorbonne, Paris, France
Christer Jönsson, Lund University, Lund, Sweden
Paul W. Meerts, Netherlands Institute of International Relations-Clingendael,
The Hague, The Netherlands
Rudolf Schüssler, Universität Bayreuth, Bayreuth, Germany
J. P. Singh, Georgetown University, Washington, DC, USA
Stephen E. Weiss, York University, Toronto, Canada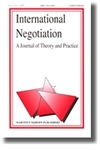 What's New
Themes of Past Issues and Abstracts of Articles
Submit Articles and Propose Thematic Issues
Subscription and Back Issue Information
Most Popular Articles from Past Issues
---
---
Themes of Past Issues (click below for abstracts)
· Conflict management/preventive diplomacy: 1,2
· Former Soviet Union/Yugoslavia
· Innovative negotiation tools: 1,2
· Multinational negotiations: 1,2
· Nagorno-Karabakh negotiations
· Negotiating international development
· Negotiation research methods: 1,2,3,4
· Negotiating internal conflicts
· Nongovernmental organizations
· Peace processes and negotiation
· Post-agreement negotiation and regimes
· Reframing international negotiations
· Social exchange in negotiation
· Sustainable development negotiations
· Teaching and training negotiation: 1,2,3
· Trade and economic negotiation:1,2,3,4,5
· Weapons of mass destruction negotiations
---